Char Dham Yatra Package from Maharashtra
Char Dham of Uttarakhand is one of the most important Hindu Pilgrimages in India which takes out for a cultural & historical journey. Experience this through this extensive package From Haridwar and get close to the enchanting prayers of Hinduism. The temples are surrounded by lofty snow-clad Himalayas with rivers flowing by. Embark this tour from Haridwar and reach Barkot which is the midpoint to the do dhams - Gangotri and Yamunotri.
Yamunotri is situated at an altitude of 3,293 metres (10,804 ft) in the Garhwal Himalayas which is the source of the Yamuna River and the seat of the Goddess Yamuna in Hinduism. Gangotri is a town in Uttarkashi in the state of Uttarakhand, India.
It is a Hindu pilgrim town on the banks of the river Bhagirathi and origin of River Ganges. Moving toward the visit to the famous Kedarnath temple which is more than 1,200 years old, located at the Garhwal Himalayan range near Mandakini river. Conclude the trip by visiting Badrinath, a place which holds so many myths and legends. It is beautifully set in the backdrop of the colossal Neelkanth mountain peak and never fails to make the visitor spellbound with its unparalleled gorgeousness..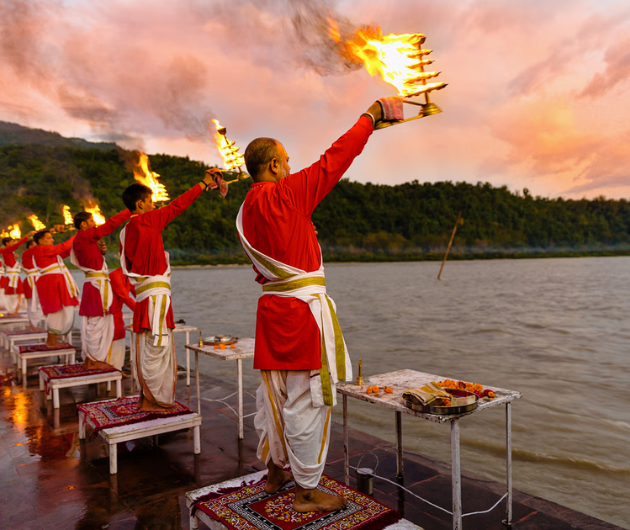 CHAR DHAM
Uttarakhand, also known as Devbhoomi or the Land of Gods, is home to numerous temples and welcomes devotees all year round. Among the countless religious sites and circuits that devotees visit in Uttarakhand, one of the most prominent is the Char Dham Yatra. This Yatra or pilgrimage is a tour of four holy sites - Yamunotri, Gangotri, Kedarnath and Badrinath – nestled high up in the Himalayas. In Hindi, 'char' means four and 'dham' refers to religious destinations.
The high-altitude shrines remain shut for around six months every year, opening in summers (April or May) and closing with the onset of winter (October or November). It is believed that one should complete the Char Dham Yatra in a clockwise direction. Hence, the pilgrimage starts from Yamunotri, proceeds towards Gangotri, onto Kedarnath, and finally ends at Badrinath. The journey can be completed by road or by air (helicopter services are available). Some devotees even do a Do Dham Yatra or a pilgrimage to two shrines - Kedarnath and Badrinath.
The Yamunotri temple, lodged in a narrow gorge close to the source of River Yamuna (the second-most sacred Indian river after River Ganga) in Uttarkashi district, is dedicated to Goddess Yamuna. The district of Uttarkashi is also home to Gangotri dedicated to Goddess Ganga, the most sacred of all Indian rivers. Located in the Rudraprayag district lies Kedarnath, dedicated to Lord Shiva. Badrinath, home to the sacred Badrinarayan Temple, is dedicated to Lord Vishnu. The Char Dham Yatra is as divine as it is arduous but fulfills the soul!.
More Spots to visit during Char Dham